18-20.11.2016. FISTC European Championship Austria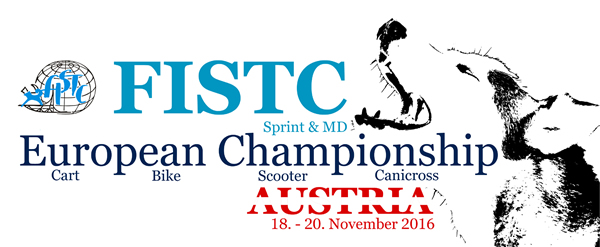 Laslo Domonkos won GOLDEN MEDAL in middle distance bikejoring with two dogs categroy.
Huge congrats to him!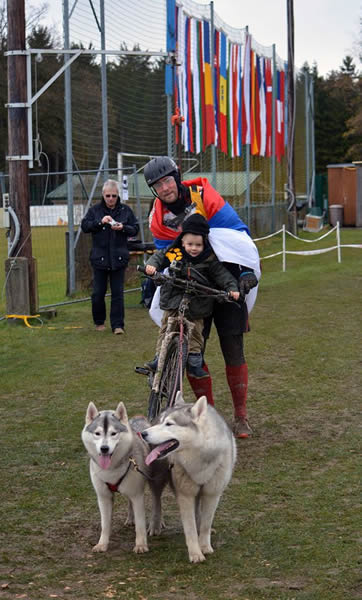 24-25.09.2016. XXI Int. Dryland Sleddog Race Dunaharaszti, Hungary
| | | |
| --- | --- | --- |
| Sordje Rebeka | triatlon | 4th place  |
| Sordje Rebeka | BJ 2 Open | 2nd place |
| Domonkos László | triatlon | 5th place  |
| Domonkos László | B1 | 1st place |
| Dubravko Miko | triatlon | 7th place  |
| Dubravko Miko | BJ 2 FCI | 6th place |
| Sonja Savic | BJ FCI | 6th place |
| Csizmadia Blanka | triatlon | 9th place  |
| Csizmadia Blanka | CCW | 3rd place |
| Csizmadia Blanka | SC 2 FCI | 4th place |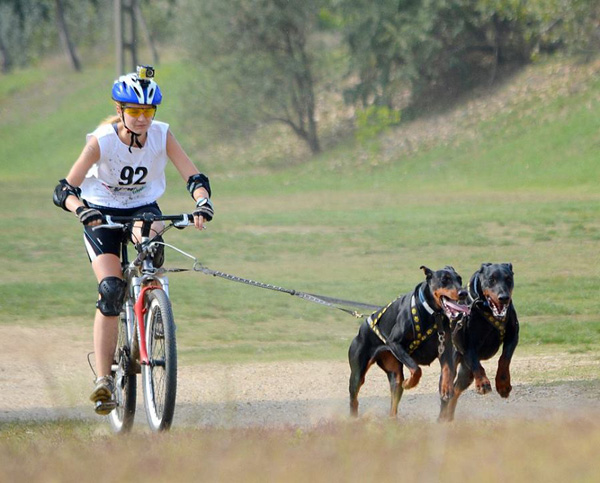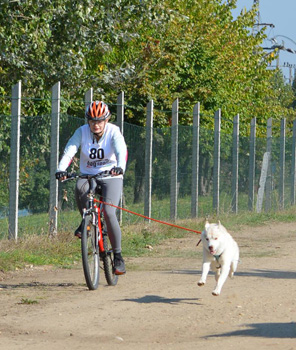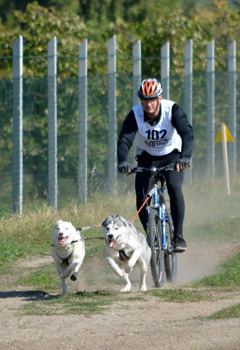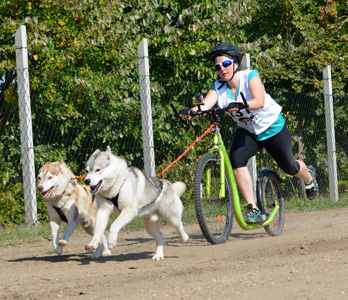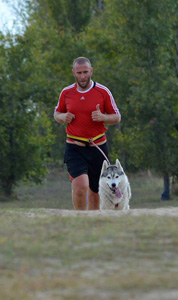 The youngest member of our club - Adam Domonkos - won silver medal in canicross kid (2-5 y) category.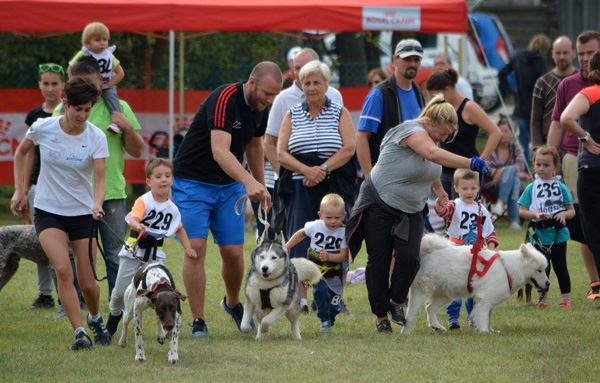 17-18.09.2016. Iron Dog Litschau (Austria)
Blanka Csizmadia won bronze medal with her Siberian in duathlon. Rebecca Sordje finished on 9th place in triathlon woman. Laslo Domonkos finished on 16th place between men.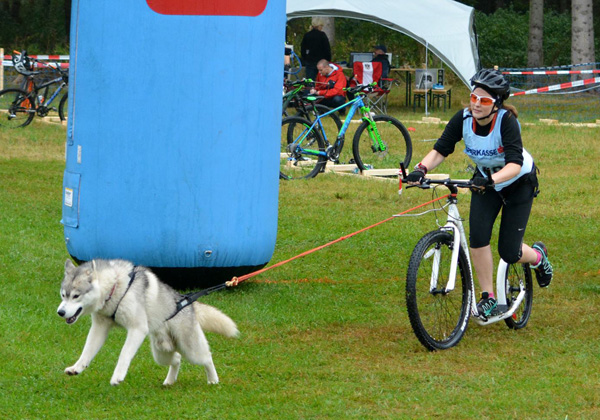 02-03.04.2016. International Dryland Sleddog Race Bear Cup, Veresegyháza, Hungary.
Rebecca Sordje won GOLDEN MEDAL with two dogs in open category with her dobermans.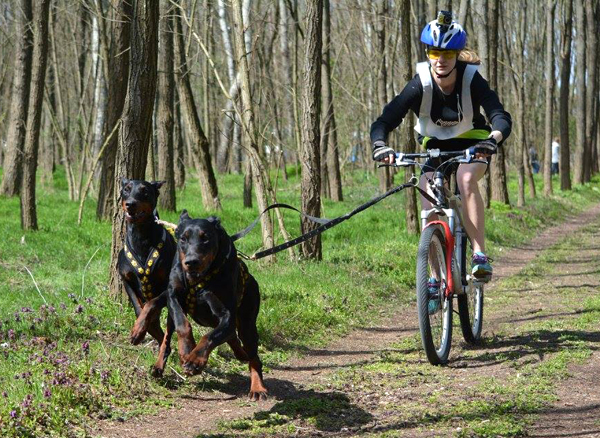 Laslo Domonkos won SILVER MEDAL in B1 category with his silvers.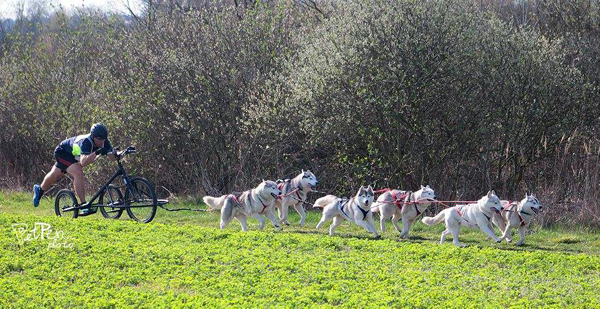 Blanka Csizmadia finishe don 4th place in dog scootering with two dogs.
05-06.03.2016.International Dryland Sleddog Race Tanyakerülő, Hungary.
Laslo Domonkos won bronze medal with his 6 Siberian Huskies. Rebecca Sordje finished on 6th place with her dobermans in open bikejoring 2 dogs.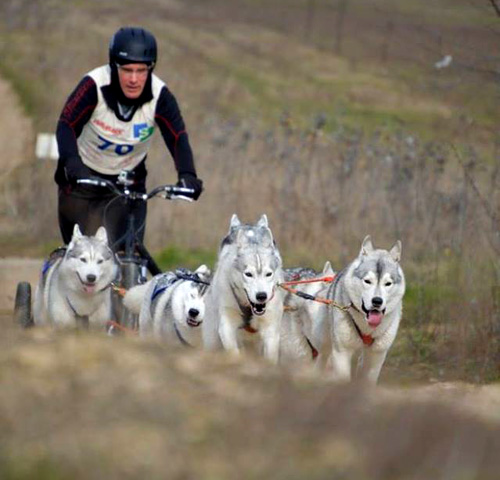 13.03.2016. IV Međunarodna Trka Zaprega Pasa Kanjiza
Photos and results of the latest race organised in Serbia: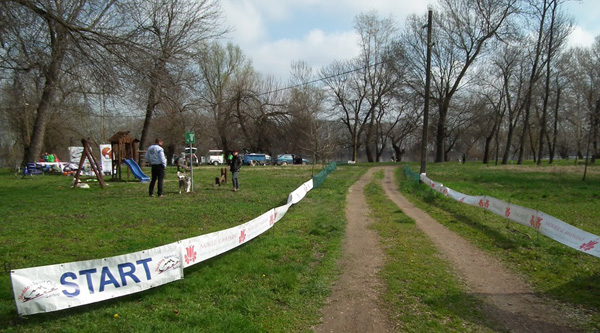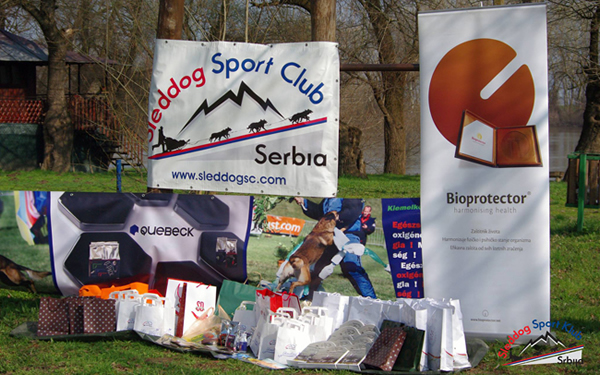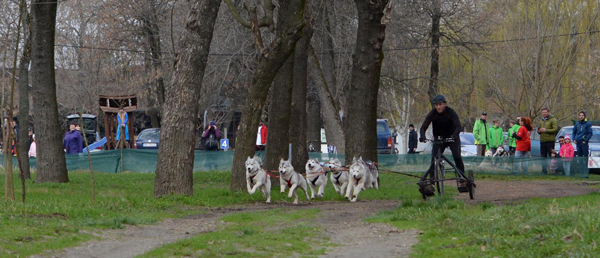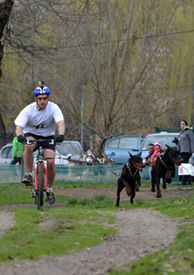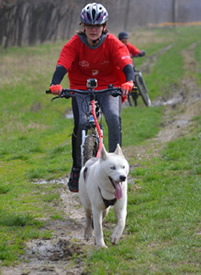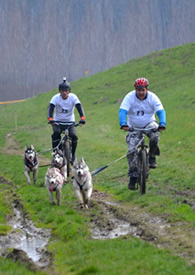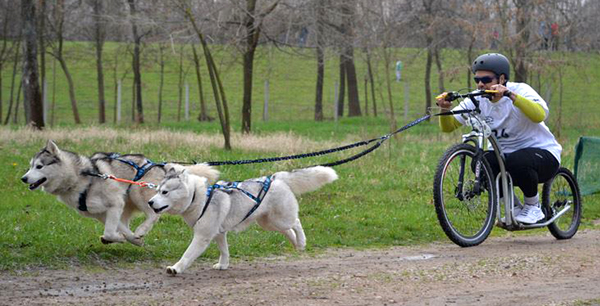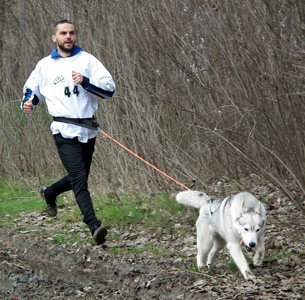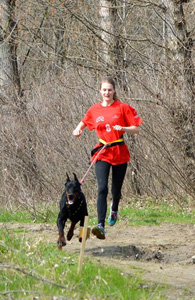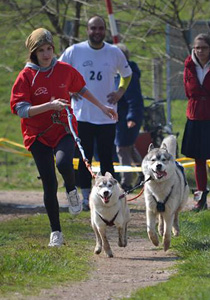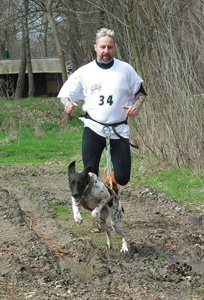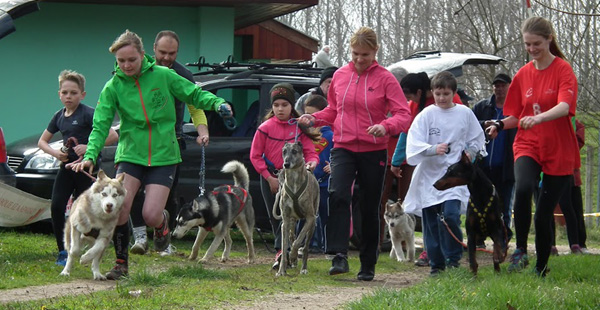 Rezultati trke: http://sleddogsc.com/2016Kanjiza_results.htm
13.03.2016. Next spring race is planned for Sunday 13th of March in Kanjiza, Serbia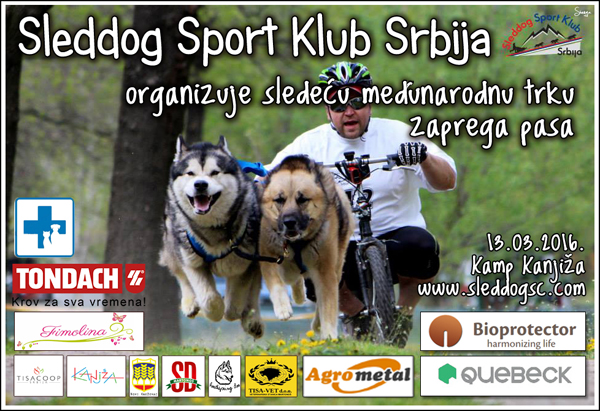 •Place - Kanjiza (Vojvodina) - Camp on the riverside in Kanjiza
•Camp opens at 9 am, entries will be accepted from 10 am.
•Race starts at 11 am.
•Announcement of results takes place at 2 pm
•Stake-out will be placed in the camp
•Trail will be 4,5 km long for all
•Entry fee is free for clubmembers and is 300 Din for non-members.
•Lunch for mushers is included into the entry (additional lunch price is 250 Din)
•All dogs must be regularly vaccinated and must have an ID paper (passport, etc)
19.04.2015. Results from the International Dryland Sleddog Race in Kanjiza, Serbia
http://sleddogsc.com/2015KanjizaResults.htm
19.04.2015. Next spring training is planned for Sunday 19th of April in Kanjiza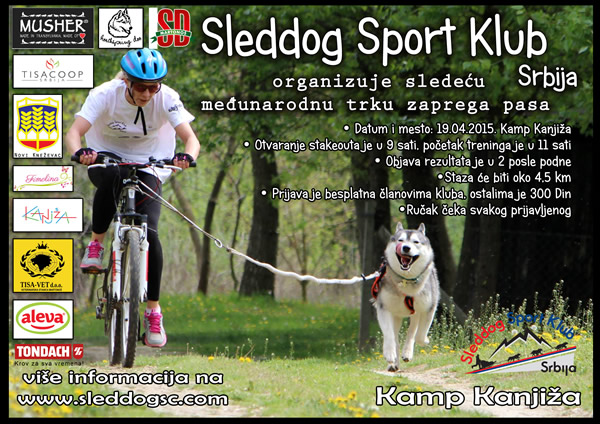 06.10.2014. Results from the International Sleddog Race in Apatin
IME / NAME
START
CILJ / FINISH
∑
Results
Sprint, 3 km, flat trail
Category: BikejöringJ 1-dog Open M
Liridon Redbecaj
11:20:00
11:28:55
0:08:55
①
Slobodan Lazić
11:22:00
11:32:40
0:10:40
②
Aleksandar Komušanac
11:40:00
11:51:42
0:11:42
③
Category: Bikejöring 1-dog Polar M
Sipicki György (HUN)
11:24:00
11:32:42
0:08:42
②
Magyar László (HUN)
11:26:00
11:34:40
0:08:40
①
Ivan Vuković
11:38:00
11:48:55
0:10:55
③
Category: Bikejöring 1-dog Polar W
Buela Szandra (HUN)
11:28:00
11:37:32
0:09:32
①
Sordje Rebecca (SDSC-SRB)
11:30:00
11:41:03
0:11:03
②
Karl Ágnes (SDSC-SRB)
11:59:00
12:13:30
0:14:30
③
Category: Scooter 1-dog Polar M
Rosner Gábor - Darius (HUN)
11:36:00
11:45:10
0:09:10
①
Rosner Gábor - Worick (HUN)
11:56:00
12:08:25
0:12:25
②
Category: Scooter 2-dog Polar M
Boban Puzin (SDSC-SRB)
11:45:00
11:56:30
0:11:30
①
Category: Bikejöring 2-dog Polar
Dubravko Miko (SDSC-SRB)
11:33:10
11:41:44
0:08:34
①
Sordje Rebecca (SDSC-SRB)
12:35:30
12:46:46
0:11:16
②
Category: C1
Domonkos László (SDSC-SRB)
11:43:00
11:51:58
0:08:58
①
Category: D1
Domonkos László (SDSC-SRB)
12:18:10
12:29:43
0:11:33
①
Category: Canicross M
Méhes Ádám (HUN)
11:48:00
11:59:47
0:11:47
①
Milan Ladiha
11:49:00
12:03:45
0:14:45
③
Dubravko Miko (SDSC-SRB)
11:51:00
12:05:55
0:14:55
④
Boban Puzin (SDSC-SRB)
12:14:00
12:29:44
0:15:44
⑤
Liridon Redbecaj
11:58:00
12:10:10
0:12:10
②
Sipicki György (HUN)
12:24:30
12:41:54
0:17:24
⑥
Category: Canicross W
Sonja Savić (SDSC-SRB)
11:52:00
12:11:14
0:19:14
③
Sordje Rebecca (SDSC-SRB)
12:05:00
12:18:50
0:13:50
①
Kamár Anett (SDSC-SRB)
12:24:30
12:46:58
0:22:28
④
Dragana Ličina
12:15:00
12:33:30
0:18:30
②
Sprint, 200 m, flat
Category: Canicross junior M
Petar Savić
12:51:00
12:51:56
0:00:56
①
Zoran Savić
12:53:40
12:54:37
0:00:57
①
Category: Canicross junior W
Anja Ajzenberger
12:52:20
12:53:13
0:00:53
①
Sara Ladiha
12:51:30
12:52:15
0:00:45
①
Elena Matraković
12:55:20
12:56:05
0:00:45
①
05.10.2014.International Sleddog Race in Apatin
Sleddog Sport Klub organizes the next sleddog dryland race at the cooperation of KD "Panonija" Apatin
19-21.09.2014. XIX. International Sleddog Meeting Dunaharaszti (HU)
Our members:
Rebecca Sordje - finished on 7th place bikejoring with 1-FCI dog, 10th in canicross woman and second place in triatlon for woman
Agneš Karl -finished on 8th place bikejoring with 1-FCI dog
Laszlo Domonkos - finished on second place in C1 category, second place in D1 category and on first place in triatlon for man (fourth time in row).
Other result:
Triatlon:
Men
I. Domonkos László (SDSC-SRB)
II. Gordan Petričić (Klub SZP)
III. Karafa László
IV. Marjai Gábor (ÉSZKSK)
V. Manfred Rumpler (BSSC-Austria)
VI. Rosner Gábor (ÉSZKSK)
VII. Zsédely Máté (SZKKE)

Women
I. Koris Edina (MCSE)
II. Rebecca Sordje (SDSC-SRB)
III. Bojana Mandic (Klub SZP)

Sausage eating contest
I. Tivo (owner: Csizmadia Blanka)

Tirell pulling sprint contest
I. Mészáros Viktor and Sky
Presentation of Sleddog Sports and equipment in Kanjiža
We had a nice day on 2nd of May in Kanjiža.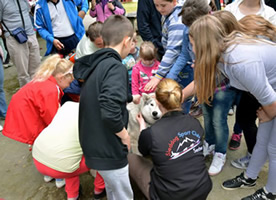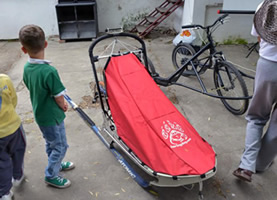 Club was invited to make a presentation about the sleddog sports and life with dogs. As the weather was too hot to show the polar dogs working we had a power point presentation about the polar breeds, talked about the rules, but the main theme was healthy life with dogs, doing sports with dogs and being active. We showed the equipment, had some movies about races and how this all looks like.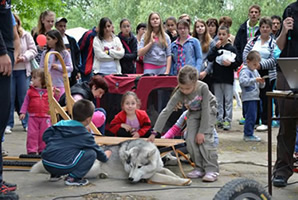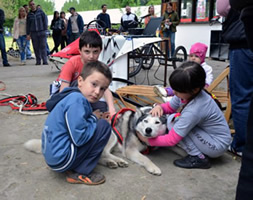 Children had possibility to be with the dogs, see how nice breed the Siberian Husky is and enjoy the companion.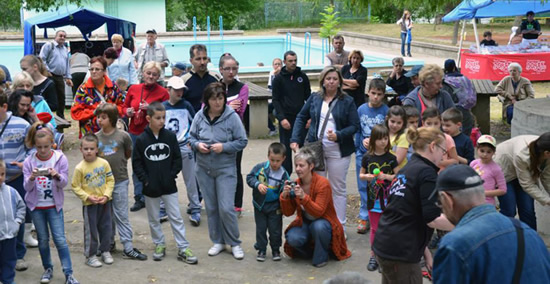 It was a successfull day as we had many interested people, the club was present in the media (both written and TV) and managed to do the next step in popularization of this sport in the country.
We would like to thank to Rebecca Sordje (member of our club) for coming and helping us with her sibe called Kira, and also would like to thank to Turistic Agency of Kanjiza for the possibility.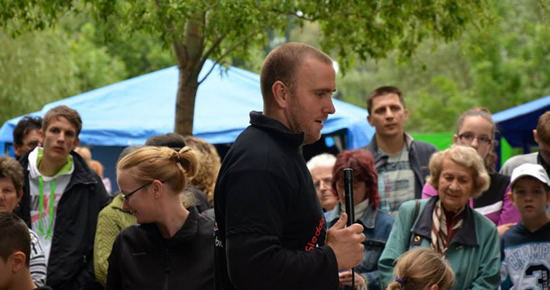 06.04.2014. II International Sleddog Race in Kanjiza

We were thinking a lot where the next race should be organised. As our family got bigger with little Adam we were not able to go further and find a new place far away from our home. We wanted to have a longer and a bit harder trail, so at the end we decided to make it in the forest next to the river Tisa. We would like to thank to the "Šumadija Vojvodine" for their approval and that they let us use the forest roads and to Turist Agency of Kanjiža, as they let us use the camp and toilets. The temperature was good, the weather was a bit cloudy but nice. We hope everyone enjoyed.
There were around 100 people watching and 28 mushers who entered from different countries as Serbia, Hungary, Croatia and Bulgaria.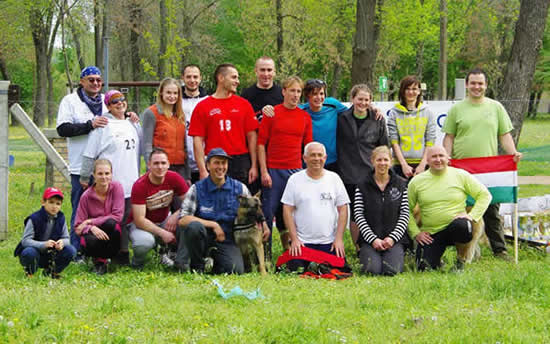 The race started at 11.36.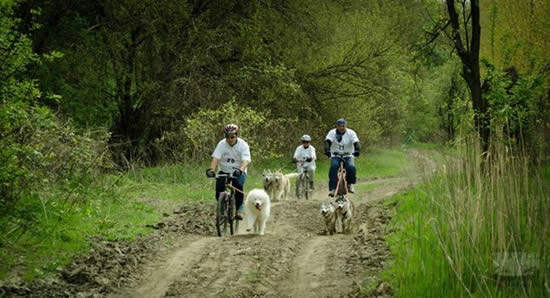 We let the children try out the sports this year. We had two little racers: Sara Ladiha and Mark Jakusa. They were more than happy to run with the dogs and get awards.
Our older club members: Sandor Domonkos and Bela Karl cooked Hungrarian Gulas Soup and bean for all the participants. We are more than grateful for the nice lunch.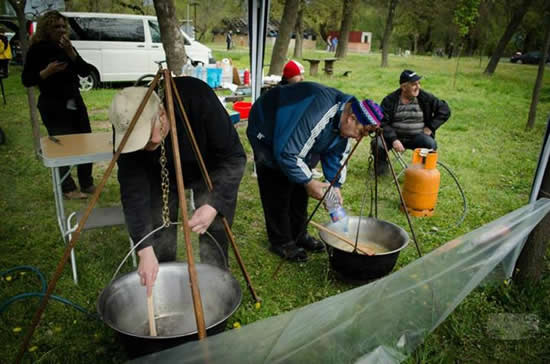 We would like to thank to all the people who came,who participated and honestly hope that we can welcome some new mushers and club members on our autumn race.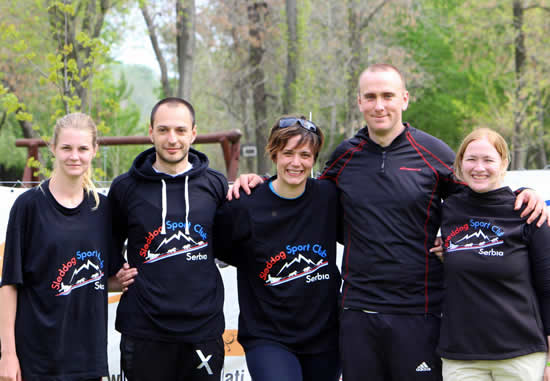 Results:
S.No.

Name

Start

Finish

Sum

Placem.

B1

10

Laszlo Domonkos

11:36:00

11:58:52

22:52

1

Bikejoring Open 1 Dog

20

Sipiczki Gyorgy

12:42:00

12:58:49

16:49

2

13

Liridon Rexhbeqaj

11:42:00

11:58:12

16:12

1

9

Soti Csaba

11:44:00

12:14:28

30:28

3

Bikejoring FCI 2 Dogs

24

Dubravko Miko

11:46:00

12:08:40

22:40

1

22

Luba Zivakova

11:50:00

12:15:55

25:48

3

21

Lubomir Stanev

11:48:00

12:13:48

25:55

2

Bikejoring FCI 1 Dog

28

Forgo Bihari Timi

12:07:00

12:31:42

24:42

4

33

Lea Bartos

12:08:00

12:33:53

25:53

5

31

Szandi Buela

12:44:00

13:05:18

21:18

3

26

Sipiczki Gyorgy

11:56:00

12:13:45

17:45

1

12

Rebecca Sordje

11:58:00

12:17:34

19:34

2

11

Karl Ágnes

12:20:00

DNS

DNS

2

Scooter 1 Dog

29

Rosner Gabor (Gr)

12:00:00

12:20:58

20:58

1

29

Rosner Gabor (Ma)

12:45:00

13:11:06

26:06

2

Scooter 2 Dogs

25

Boban Puzin

12:03:33

12:39:00

35:27

1

Canicross Men

32

Tom Fodor

12:54:00

13:08:42

14:42

1

14

Milan Ladiha

12:10:30

12:30:15

19:45

4

30

Andras Krizsan

12:11:00

12:34:32

23:32

5

24

Dubravko Miko

12:27:00

12:46:28

19.28

3

13

Liridon Rexhbeqaj

12:57:30

13:15:10

17:40

2

Canicross Women

27

Csizmadia Blanka

12:12:00

12:28:54

16:54

1

15

Anett Kalmar

13:03:30

13:35:07

31:37

5

33

Lea Bartos

12:49:00

DNF

DNF

6

28

Forgo Bihari Timea

12:50:30

13:10:03

19:33

3

23

Sonja Savic

12:18:00

12:44:23

26:23

4

12

Rebecca Sordje

12:58:30

13:15:33

17:03

2

Canicross Kid

Sara Ladiha

x

x

x

1

Mark Jakus

x

x

x

1
You can see the photos of this event in the gallery.

Our sponsors were: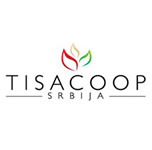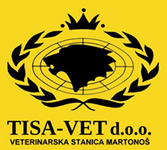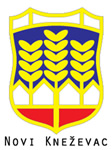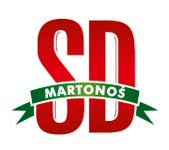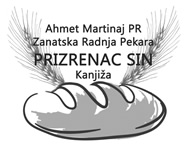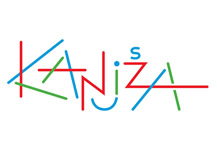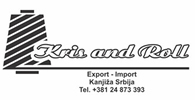 Big LIKE to them as everyone went home with something nice in their hands. Also would like to thank to those who helped with the organisation: Istvan Kis, Roland Szabo, Julia Kis, Karoly Dukai, Anemari Karh Domonkos, Egon Popity, Petra Karacsonyi.
29-30.03.2014. V International Sleddog Race in Veresegyhaza, Hungary, called "Bear Cup"
We had 3 mushers who presented our club: Laszlo Domonkos in B1 (6 sibes) he finished on 4th place, Blanka Czizmadia took second place in D1 (2 sibes) and 3rd in canicross woman, Agnes Karl was 8th in bikejoring.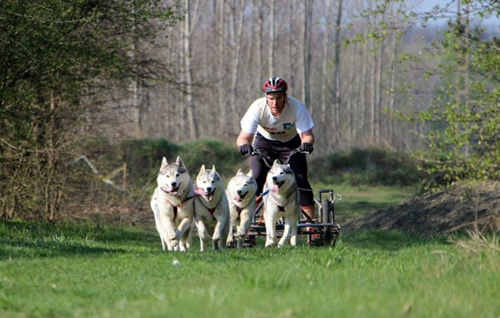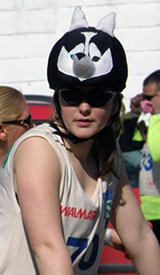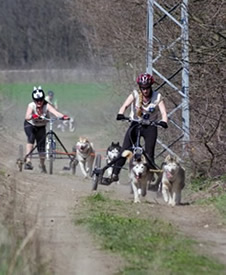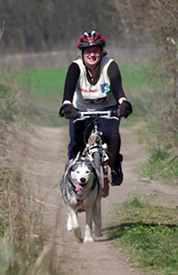 26-27.10.2013. 7. Internationales Schlittenhunde-Wagenrennen Reingers
Laszlo Domonkos took second place in C1 from 8. Congrats on this nice result!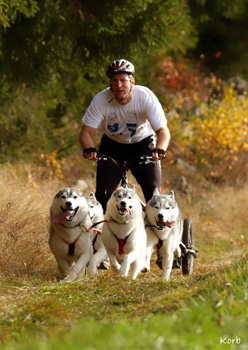 12-13.10.2013. International Dryland Sleddog Cup Venek (Hungary).
Mushers of Sleddog Sport Club (Blanka Csizmadia and Laszlo Domonkos) had some beautiful results on this race - Blanka was 2nd in D1 and Laszlo was 2nd in C1, 5th in bikejoring with one Siberian Husky.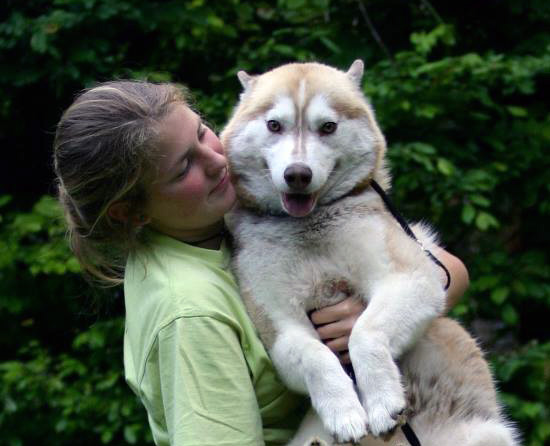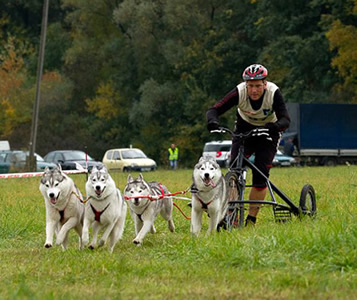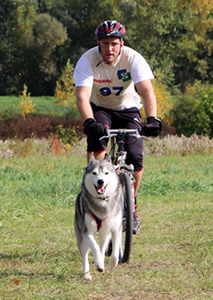 06.10.2013. Sleddog Sport Klub je organizovao drugi promotivni trening/trku ove godine
Ovaj put smo odabrali lakšu stazu na teritoriji male šume u Kanjiži. Stvarno smo srećni jer je i ovaj put bilo prekrasno vreme sa 19 stepeni. Idealno za kratku trku, svi smo uživali.
Skupilo nas se oko 50-tak, bilo je ukupno 15 prijavljenih takmičara iz Srbije, Madjarske i Slovenije.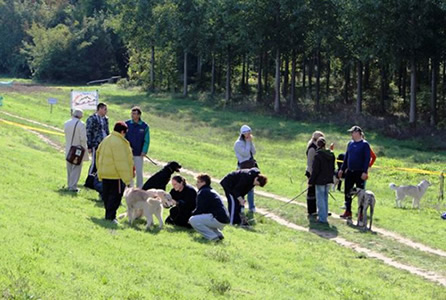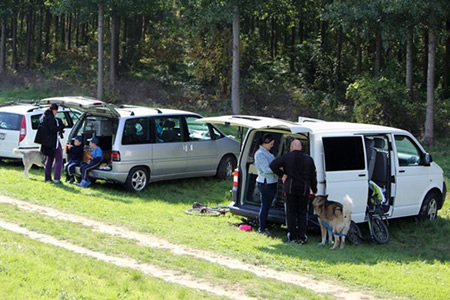 Prijave smo primali od 9.30 a trka je počela sa malim zakašnjenjem u 11.30.

Kao i prvi put i sad su zaprege sa 4 pasa startovale prve, pa su bajkeri krenuli sa svojim psima, zatim kanikros muški i kanikros ženski.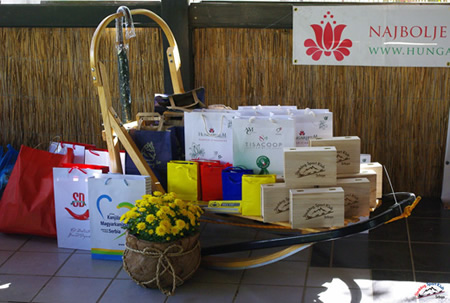 U disciplini C1 (4 čistorkvna sibirska haskija) prvo mesto je zauzeo mušer Sleddog Sport Kluba, Laslo Domonkoš. U C2 kategoriji (4 čistokrvna aljaska malamuta) je pobedio Peter Lipcsei iz Madjarske. Izmedju bajkera u otvorenoj kategoriji je Gyorgy Sipiczki uzeo prvo mesto sa svojim border kolijem a on je pobedio i u FCI kategoriji sa svojom samojed kujicom. Izmedju kanikros muških prvo mesto je zauzeo Liridon Rexhbeqaj iz Srbije sa svojim dobermanom, a u ženskoj konkurenciji je pobedila Blanka Csizmadia iz Madjarske sa sibirskim haskijem. Na ovoj trci se prikazala jedna nova disciplina do sada nevidjena u Srbiji – Skuter sa psom. Gabor Rosner je pokazao kako se to profesionalno radi sa svojim grenland psom.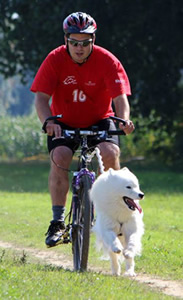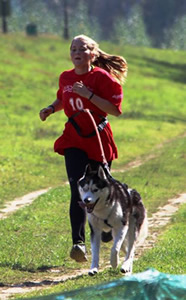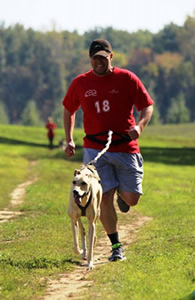 Na slikama: Gyorgy Sipiczki sa samojedom, Blanka Csizmadia sa haskijem i Gabor Konc sa hrtom.

Naši počasni članovi kluba: Erzsebet i Bela Karl su i ovaj put dali sve od sebe i skuvali nam jako ukusan i fin pileći paprikas sa krompirom. Ovim putem im se puno zahvaljujemo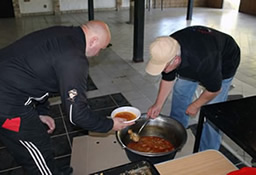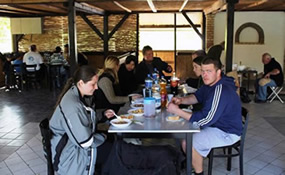 Ručak

Hvala svima koji su došli i učestvovali na trci. Nadamo se da će nas na proleće biti jos vise i da će nam se i novi članovi pridružiti. Vidimo se ponovo na proleće u trećem mesecu!

Rezultati trke: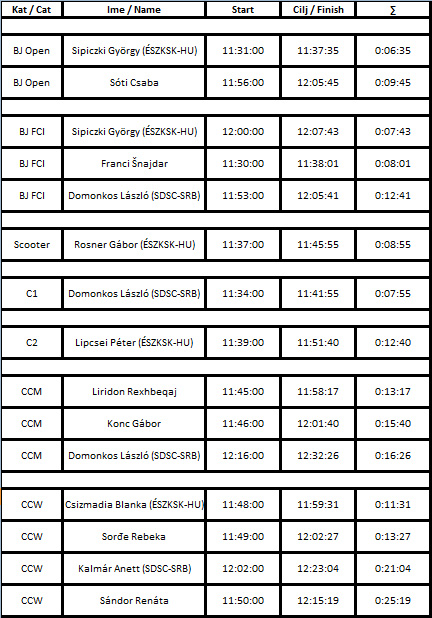 Slike sa vikenda možete pogledati u našoj galeriji.

Zahvaljujemo se našim sponzorima, koji su svojim donacijama pomogli ostvarenje ovog takmičenja. Svaki učesnik se vratio kući sa puno doživljaja i poklona.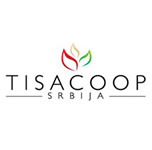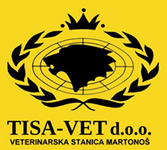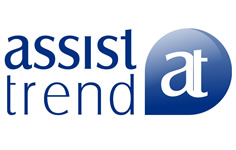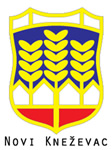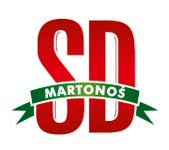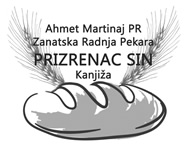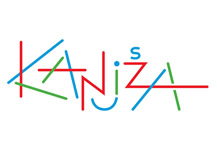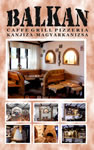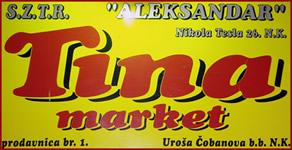 21-22.09.2013. XVIII.International Sleddog Meeting Dunaharaszti (HU)
Our musher - Laszlo Domonkos - finished on second place in C1 category and on first place in triatlon (third time in row) as respresentative of Serbia.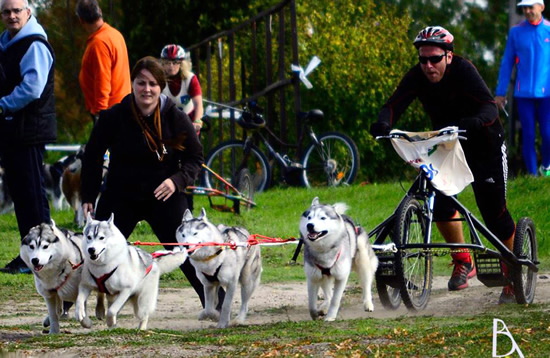 11.03.2013. BloomPet coupons
Every musher who was entered to our race on Fruška Gora got a coupon from BloomPet Hungary. You can use these coupons for ordering doggie equipment from their website (see details on your coupon).
You are able to order the next leads in easier way till 15.03. as they are at us:
Our first training for this year was organized last weekend (03.03.2013)- Na Srpskom jeziku OVDE
Sleddog Sport Club organized the first sleddog sport training together with Husky Center Lothlorien on the first weekend of March.
We had wonderful weather, the sky was clear, sun was shining but it was not too hot, perfect for us human to enjoy the spring and it was ok for the dogs as the trail was only around 3 km long. The training and race took place in the forest of the Fruska Gora.

We had 28 entries on Saturday and 22 mushers on Sunday. It is very nice number if we look that this was the first sleddog sport event since 2002.
I'm very grateful to everyone who came and tried out these sports or just had nice time with us. You are Great People!
We had guests from Hungary, musher from Slovenia and some fans from even Russia. So our little race became international.
The first starter was Aleksander Nikolic with his open team in CO, he took first place in his category. Second racer was Laszlo Domonkos, the president of our club in B1 with his 5 purebred Siberian Huskies taking first place. In C1 we had Zeljka Banda with his four Siberian Husky team. After that we could saw our next generation - the juniors in canicross. In men category Uros Dimitrijevic (16) won with his Alaskan Malamute and in women it was Milana Knezevic (13) from our club with her Siberian Husky girl Malena. We are very proud of them.
In adult canicross first place went to Blanka Csizmadia (HU) from women and the best was between men De Kandjia Saša. In bikejoring we had one dog and two dog teams. The best was Gyorgy Sipiczki with a Border Collie, and Luka Kukic with his two Alaskan Malamutes.
When the race was over we had opportunity to eat a nice lunch prepared by our club members: Bela and Erzebet Karl. They started cooking at 10am and finished at 1pm. I think that I can tell on behalf of all that the gulash soup was simply delicious.
At 2pm we could hear the results and everyone got a bigger or smaller present from our sponsors. I would like to thank them one more time that they supported our meeting with such nice gifts and awards.
Our sponsors were: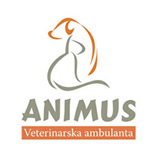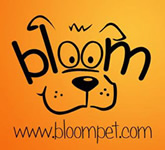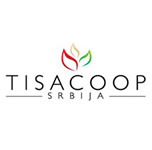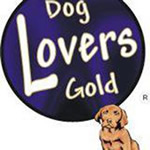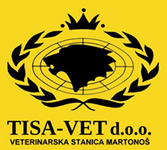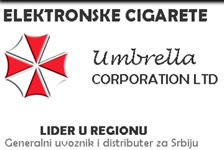 Results of the race: